Inhoud
Emotionele aspecten van de ontwikkeling van kinderen die door middel van een kunstmatige reproductietechniek (DI of IVF) zijn verwekt: vier casussen
2 april 2015
Summary
Four completely different case-histories are presented of children born by means of an artificial reproduction technique such as donor insemination (ID) or in vitro fertilisation (IVF). Each child is also raised in a different situation: one ID boy is raised by his genetic mother and his non-genetic father, one IVF girl by her genetic parents, one ID boy by his single living genetic mother, and one ID boy by a lesbian couple of which one partner is his genetic mother.
In three of the four children a standard in-depth interview was used for data-assembly, in one child material from his psychotherapy was used.
The impact of the artificial reproductive technique on emotional development is described separately for each case. Factors such as a parent's infertility, secrecy about genetic origin, anonymity of the donor and being raised without a father are discussed.
Lees het volledige artikel als PDF
Literatuur
Abelin, E. (1975), Some further observations and comments on the earliest role of the father. International Journal of Psycho-Analysis 56, p. 293-302.
Balen, F. van (1995), De ouder-kindrelatie na in vitro fertilisatie (IVF). Nederlands Tijdschrift voor Psychologie 50, p. 10-14.
Baeten, M. (1985) Anders maak je zo'n zaadje veel te groot. Moeten Ki-kinderen de kans hebben hun vader te kennen? Opzij, december 1985, p. 14-17.
Baran, A. & R. Pannor (1989) Lethal Secrets. Parents, Children, Donors and Experts Speak Out. Warner Books, New York.
Bosman, R. (1993), Opvoeden in je eentje. Een onderzoek naar de betekenis van het moedergezin voor de onderwijskansen van kinderen. Swets & Zeitlinger, Lisse.
Blum, H.M., M.H. Boyle & D.R. Offord (1988), Single-parent families child psychiatric disorder and school performance. Journal of the American Academy of Child and Adolescent Psychiatry. 277, 214-219.
Burlingham, D. (1973), The preoedipal infant-father relationship. Psychoanalytic Study of the Child 28, p. 23-47.
Brewaeys, A., I. Ponjaert, A. van Steirteghem en P. Devroey (1993), Children from anonymous donors, an inquiry into homosexual and heterosexual parents attitudes. Journal of Psychosomatic Obstetrics and Gynaecology 14, p. 23-35, Special Issue.
Brewaeys, A. en R van Balen (1997) Donorinseminatie: de gevolgen voor ouders en kind. In: T. Engelen-Snaterse & R. Kohnstamm, Kinder- en jeugd psychologie. Trends Eds. Swets & Zeitlinger, Lisse, p. 25-41.
Cherlin, A.J., F.F. Furstenberg Jr., L. Chase-Lansdale, K.E. Kiernan, P.K. Robins, D.R. Morrison & J.O. Teitler J.O. (1991) Longitudinal studies of effects of divorce on children in Great Britain and the United States. Science 252, 1386-1389.
Chiland, C. (1982), A new look at fathers. Psychoanalytic Study of the Child 37, p. 367-379.
McCormack, M.K, S. Leiblum & A. Lazzarini (1983), Attitudes regarding utilisation of artificial insemination by donor in Huntington disease. American Journal of Medical Genetics 14, p. 5-13.
Flaks, D.K., I. Ficher, F. Masterpasqua, & G. Joseph (1995), Lesbians choosing motherhood: a comparative study of lesbian and heterosexual parents and their children. Developmental Psychology, 31 (1), p. 105-114.
Geerlings, J. & M. van der Meer (1989), Lesbisch Moederschap; Praktijk en Theorie; Een Onderzoek. Homostudies, deel 14. Interfacultaire Werkgroep Homostudies Rijksuniversiteit Utrecht, Utrecht.
Gerstel, G. (1963), A psychoanalytic view of artificial Donor Insemination. American Journal of Psychotherapy 17, p. 64-77.
Golombok S., A. Spencer & M. Rutten (1983), Children in lesbian and single parent households. Journal of Child Psychology and Psychiatry vol 24 (4) p. 551-572.
Golombok, S., R. Cook, A. Bish, A. & C. Murray (1995) Families created by the new reproductive technologies: Quality of parenting and social and emotional develoment of the children. Child Development 66, p. 285-298.
Groen-Prakken, J. (1986), Geheimen. Mededelingenblad Nederlandse Vereniging voor Psychoanalyse 1 (6), p. 6-26.
Jacobs T.J. (1980), Secrets, alliances and family fictions: some psychoanalytic observations. Journal of the American Psychoanalytical Association 28, p. 20-43.
Herzog, J.M. (1984), Fathers and young children: fathering daughters and fathering sons. In: J.D. Call, E. Galenson & R.L. Tyson (Eds.) Frontiers of Infant Psychiatry vol 2 Basic Books, New York, p. 335-342.
Kanter, R. de (1996) Een vader is een mannelijke moeder eigenlijk: de sekse-geslachtsidentiteit van kinderen in verschillende leefvormen. Proefschrift, J. van Arkel, Utrecht.
Ketting, E. (1990), Nieuwe feiten over geboorteregeling in Nederland. Voordracht Symposium geboorteregeling, Utrecht.
Kirkpatrick, M., C. Smith & R. Roy (1981), Lesbian mothers and their children: a comparative survey. American Journal of Ortho-psychiatry 51 (93), p. 545-552.
Lalos, A., O. Lalos, L. Jacobsson & B. von Schoultz (1985), Psychological Reactions to the Medical Investigation and Surgical Treatment of Infertility. Gynecol. Obstet. Invest. 20, p. 209-217.
Levy, D.M. (1970) The concept of maternal overprotection. In: E.J. Anthony & Th. Benedek (Eds), Parenthood, its psychology and psychopathology. Brown, Little & Co., Boston, p. 387-410.
Mahler, M.S., F. Pine & A. Bergman (1975), The psychological birth of the human infant. Basic Books, New York.
Mulder, V. (1989), Tips voor Twee Moeders. SUA, Amsterdam.
Pines, D. (1993), A woman's unconcious use of her body: a psychoanalytical perspective. Virago, London.
Slijper, F.M.E. & F.C. Verhulst (1991), Rapport betreffende de onderzoekbaarheid van psychische gevolgen voor KID-kinderen om geen toegang tot hun afstamming te hebben. Rapport voor het Ministerie van Justitie.
Snowden, R., G.D. Mitchell E.M. & Snowden, E.M. (1983), Artificial Reproduction: A Social Investigation. George Allen & Unwin, Londen.
Snowdon, R & E. Snowdon (1990) Report of Research Results. Unpublished report.
Tasker, F. & S. Golombok, S. (1995), Adults raised as children in lesbian families. Amererican Journal of Orthopsychiatry 65 (2), p. 203-216.
Tyson, Ph. & R.L. Tyson (1990), Psychoanalytic Theories of Development: An Integration. Yale University Press, New Haven.
Verhuist, F.C., H.J.M. Versluis-den Bieman & N.C.M. Balmus, N.C.M. (1997), Opgroeien bij lesbische ouders of in een eenoudergezin geen risicofactor voor probleemgedrag, opgroeien als adoptiekind wel. Nederlands Tijdschrift voor Geneeskunde 141 (9), p. 414-419.

© 2009-2019 Uitgeverij Boom Amsterdam
ISSN 1382-516x
De artikelen uit de (online)tijdschriften van Uitgeverij Boom zijn auteursrechtelijk beschermd. U kunt er natuurlijk uit citeren (voorzien van een bronvermelding) maar voor reproductie in welke vorm dan ook moet toestemming aan de uitgever worden gevraagd:
Behoudens de in of krachtens de Auteurswet van 1912 gestelde uitzonderingen mag niets uit deze uitgave worden verveelvoudigd, opgeslagen in een geautomatiseerd gegevensbestand, of openbaar gemaakt, in enige vorm of op enige wijze, hetzij elektronisch, mechanisch door fotokopieën, opnamen of enig andere manier, zonder voorafgaande schriftelijke toestemming van de uitgever. Voor zover het maken van kopieën uit deze uitgave is toegestaan op grond van artikelen 16h t/m 16m Auteurswet 1912 jo. Besluit van 27 november 2002, Stb 575, dient men de daarvoor wettelijk verschuldigde vergoeding te voldoen aan de Stichting Reprorecht te Hoofddorp (postbus 3060, 2130 KB, www.reprorecht.nl) of contact op te nemen met de uitgever voor het treffen van een rechtstreekse regeling in de zin van art. 16l, vijfde lid, Auteurswet 1912. Voor het overnemen van gedeelte(n) uit deze uitgave in bloemlezingen, readers en andere compilatiewerken (artikel 16, Auteurswet 1912) kan men zich wenden tot de Stichting PRO (Stichting Publicatie- en Reproductierechten, postbus 3060, 2130 KB Hoofddorp, www.cedar.nl/pro).

No part of this book may be reproduced in any way whatsoever without the written permission of the publisher.
Jaargang 25, nr. 3, september 2019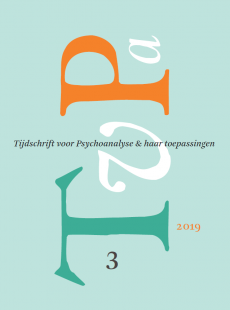 Nieuwsbrief Boom Psychologie
Meld u nu aan en ontvang maandelijks de Boom Psychologie nieuwsbrief met aantrekkelijke aanbiedingen en de nieuwe uitgaven.
Aanmelden
Boeken