Inhoud
Nachtmerries
2 april 2015
Summary
In this article an attempt is made, first, to define the characteristics of the nightmare and related phenomena. The anxiety dream, the nightmare, the posttraumatic nightmare, the post-traumatic nocturnal re-enactment, the pavor nocturnus, and the psychotic nightmare are discussed. In all these manifestations, the issue is whether and to what extent the amount of primary process and secondary process thinking is out of normal proportion in a given sleep phase. The secondary process becomes activated by the threat during the dream, which accomplishes waking.
Secondly, by means of some vignettes a differentiation is made between dream contents according to a rigid and an elaborated scenario. Finally, the theoretical and practical implications of this difference in connection with the process of waking are discussed.
Lees het volledige artikel als PDF
Literatuur
Alston, T.M., R.C. Calogeras, H. Deserno (Eds.) (1993), Dream Reader. Psychoanalytic articles on dreams. International Universities Press, Madison.
Beek, H.H. (1969), Waanzin in de middeleeuwen. De Toorts, Haarlem.
Bonaparte, M. (1947), A lion hunter's dream. Psychoanalytic Quarterly 16, p. 1-10.
Carlson, R., D.K. White, I.D. Turkat (1982), Night Terrors: A clinical and empirical review. Clinical Psychology Review 2, p. 455-468.
Cavallero, C. en P. Cicogna (1993), Memory and dreaming. In: C. Cavallero en D. Foulkes (Eds.), Dreaming as cognition. Harvester Wheat-sheaf, New York.
Cohen, D.B. (1974), Toward a theory of dream recall. Psychological Bulletin 81, p. 138-154.
Cohen, D.B., en G. Wolfe (1973), Dream recall and repression: evidence for an alternative hypothesis. Journal of Consulting and Clinical Psychology 41, p. 349-355.
Empson, J. (1993), Sleep and dreaming. Harvester Wheatsheaf, New York.
Fisher C, E. Kahn, A. Edwards e.a. (1973), A psychophysiological study of nightmares and night terrors. In: Psychological aspects of the stage 4 night terror. Journal of Nervous and Mental Disease 157, p. 75-98.
Freud S. (1900), De droomduiding. Nederlandse Editie, Psychoanalytische duiding 2/3 (hoofdstuk 7: Over de psychologie der droom-processen). Boom, Amsterdam/Meppel.
Freud S. (1920), Aan gene zijde van het lust-principe. Nederlandse Editie, Psychoanalytische Theorie 1. Boom, Amsterdam/Meppel, p. 95-163.
Freud S. (1926), Remming, symptoom en angst. Nederlandse Editie, Psychoanalytische Theorie 3. Boom, Amsterdam/Meppel, p. 125-231.
Freud S. (1933), Colleges inleiding tot de psychoanalyse – nieuwe reeks. Nederlandse Editie, Inleiding tot de Psychoanalyse 3, college 29: Herziening van de droomleer. Boom, Amsterdam/Meppel.
Goodenough, D.R. (1978), Dream recall: history and current status. In: A.M. Arkin, J.S. Antrobus, S.J. Ellman (Eds.), The Mind in Sleep. Lawrence Erlbaum Associates, New Jersey.
Hartmann, E. (1984), The nightmare. The psychology and biology of terrifying dreams. Basic Books, New York.
Hobson, J.A. (1989), Slapen en dromen. Natuur en Techniek, p. 185-187.
Jones E. (1949), On the nightmare. Hogarth Press, London.
Kahn, E., C. Fisher, A. Edwards (1991), Night terrors and anxiety dreams. In: A.M. Arkin, J.S. Antrobus, S.J. Ellman. The Mind in Sleep: Psychology and psychophysiology. John Wiley and sons, New York.
Kellerman, H. (Ed.) (1987), The Nightmare. Psychological and biological foundations. Columbia University Press, New York.
Klein, M. (1932), The Psycho-analysis of children. Hogarth, Londen.
Lansky, M.R. en C.R. Bley (1995), Post-traumatic nightmares. Psychodynamic explorations. The Analytic Press, Hillsdale, NJ/Londen.
Lidz, Th. (1946), Nightmares and the combat neuroses. Psychiatry 9, p. 37-49.
Lindsay, J.S.B. (1954), Nightmares. British Joumal of Medical Psychology 27, p. 224-234.
Loewenstein, R.M. (1949), A posttraumatic dream. Psychoanalytic Quarterly 18, p. 449-454.
Mack, J. (1965), Nightmares. Conflict and ego development in childhood. International Journal of Psycho-analysis 46, p. 403-428.
Mack, J. (1970), Nightmares and Human Conflict. Little and Brown, Boston.
McCormick, D.A. en T. Bal (1994), Current Opinion. Neurobiology 4, p. 550-556.
Póltawska, W. (1967), States of paroxysmal Hypermnesia. Przeglad Lekarski 1, p. 190-218.
Schreuder, J.N. (1996), Post-traumatic re-experiencing in older people: working through or covering up? American Journal of Psychotherapy 50, p. 231-242.
Schreuder, J.N. (1998), The Phenomenology and Psychodynamics of Posttraumatic Re-Experiencing. Lezing gehouden tijdens de conferentie 'Traum, Affekt und Selbst', Sigmund-Freud-Institut, Frankfurt am Main, Duitsland.
Shalev, A.Y., T. Galai, S. Eth (1993), Levels of trauma: A multidimensional approach to the treatment of PTSD. Psychiatry 56, p. 166-177.
Sweden, B. van, J. Bollen, B. Leroy, e.a. (1993), Incubus. Acta Neuropsychiatrica 5, p. 88-91.
Wilson J., (1997), The Meaning of Dreams. Scientific American, Special Issue, p. 58.

© 2009-2020 Uitgeverij Boom Amsterdam
ISSN 1382-516x
De artikelen uit de (online)tijdschriften van Uitgeverij Boom zijn auteursrechtelijk beschermd. U kunt er natuurlijk uit citeren (voorzien van een bronvermelding) maar voor reproductie in welke vorm dan ook moet toestemming aan de uitgever worden gevraagd:
Behoudens de in of krachtens de Auteurswet van 1912 gestelde uitzonderingen mag niets uit deze uitgave worden verveelvoudigd, opgeslagen in een geautomatiseerd gegevensbestand, of openbaar gemaakt, in enige vorm of op enige wijze, hetzij elektronisch, mechanisch door fotokopieën, opnamen of enig andere manier, zonder voorafgaande schriftelijke toestemming van de uitgever. Voor zover het maken van kopieën uit deze uitgave is toegestaan op grond van artikelen 16h t/m 16m Auteurswet 1912 jo. Besluit van 27 november 2002, Stb 575, dient men de daarvoor wettelijk verschuldigde vergoeding te voldoen aan de Stichting Reprorecht te Hoofddorp (postbus 3060, 2130 KB, www.reprorecht.nl) of contact op te nemen met de uitgever voor het treffen van een rechtstreekse regeling in de zin van art. 16l, vijfde lid, Auteurswet 1912. Voor het overnemen van gedeelte(n) uit deze uitgave in bloemlezingen, readers en andere compilatiewerken (artikel 16, Auteurswet 1912) kan men zich wenden tot de Stichting PRO (Stichting Publicatie- en Reproductierechten, postbus 3060, 2130 KB Hoofddorp, www.cedar.nl/pro).

No part of this book may be reproduced in any way whatsoever without the written permission of the publisher.
Jaargang 26, nr. 3, september 2020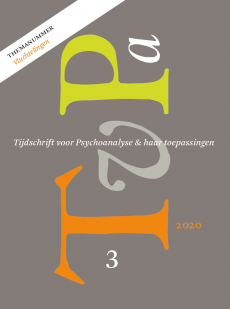 Nieuwsbrief Boom Psychologie
Meld u nu aan en ontvang maandelijks de Boom Psychologie nieuwsbrief met aantrekkelijke aanbiedingen en de nieuwe uitgaven.
Aanmelden
Boeken