Inhoud
Secundaire ziektewinst
2 april 2015
Summary
This article deals with the historical development of the idea of 'secondary gain'. Freud introduced this concept as a complement of 'primary gain'. In the course of his career Freud modified the scope of both ideas, but his conception stayed within the boundaries of an intrapsychic mechanism. Outside psychoanalysis, the concept of 'secondary gain' has acquired a further meaning with more emphasis on interpersonal and social aspects.
Consequently, it is often unclear what a writer or speaker means when he uses the term.
The different meanings of 'secondary gain' in and outside psychoanalysis are illustrated with reference to research literature and case histories.
Lees het volledige artikel als PDF
Literatuur
Barksy, A.J., G.L. Klerman (1983), Overview: hypochondriasis, bodily complaints, and somatic styles. The American Journal of Psychiatry 140, p. 273-283.
Bokan, J.A., R.K. Ries, W.J. Katon (1981), Tertiary gain and chronic pain. Pain 10, p. 331-335.
Connors, D.D. (1985), Women's 'sickness': a case of secondary gains of primary losses. Advances of Nursery Science 7 (3), p. 1-17.
Craig, T.K.J., H. Drake, K. Mills, A.P. Boardman (1994), The South London Somatisation Study II. Influence of stressful life eventens, and secondary gain. British Journal of Psychiatry 165, p. 248-258.
Diagnostic and Statistical Manual of Mental Disorders (3rd ed.) (1980), American Psychiatric Association, Washington, DC.
Diagnostic and Statistical Manual of Mental Disorders (4th ed.) (1994), American Psychiatric Association, Washington, DC.
Finneson, B.E. (1978), Modulating effect of secondary gain on the low back pain syndrome. Advances of Pain Research and Therapy 1, p. 949-952.
Fishbain, D.A., H.L. Rosomoff, R.B. Cutler, e.a. (1995), Secondary gain concept: a review of the scientific evidence. The Clinical Journal of Pain 2, p. 6-21.
Freud, S. (1905), Bruchstück einer Hysterie-Analyse. Gesammelte Werke V. S. Fischer Verlag, Frankfurt, p. 202-203.
Freud, S. (1909), Algemeines über den hysterischen Anfall. Gesammelte Werke VII. S. Fischer Verlag, Frankfurt, p. 235-245.
Freud, S. (1917), Vorlesungen zur Einführung in die Psychoanalyse. Gesammelte Werke XI. S. Fischer Verlag, Frankfurt, p. 397-400.
Maldofsky, H., M.T. Wong, F.A. Lue (1993), Litigation, sleep symptoms and disabilities in postaccident pain (fibromyalgia). Journal of Reumatology 20, p. 1935-1940.
Mayou, R., S. Tyndel, B. Bryant (1997), Longterm outcome of motor vehicle accident injury. Psychosomatic Medicine 6, p. 578-584.
Mechanic, D., E.H. Volkart (i960), Illness behavior and medical diagnoses. Journal of Health and Human Behavior. 1, p. 86-94.
Mendelson, G. (1983), The effect of compensation and litigation on disability following compensable injuries. American Journal of Forensic Psychiatry 4, p. 97-112.
Nemiah, J.C. (1963), Psychological complications in industrial injuries. Archives of Environmental Health 7, p. 482-486.
Parsons, T. (1951), The Social System. The Free Press, Glencoe.
Radley, A., R. Green (1985), Styles of adjustment to coronary graft surgery. Society of Scientific Median 20, p. 461-472.
Raskin, M., J.A. Talbott, A.T. Meyerson (1966), Diagnosis of conversion reactions. Journal of the American Medical Association, 197, p. 102-106.
Rümke, H.C. (1971), Psychiatrie. Deel 1. Scheltema en Holkema, Utrecht, p. 291-292.
Schoen, M. (1993), Resistance to Health: when the mind interferes with the desire to become well. American Journal of Clinical Hypnosis 36, p. 47-54.
Stout, M.A. (1984), A cognitive-behavorial study of selfreported factors in migraine. Psychopathology 17, p. 290-296.
Strauss, I., M. Savitsky (1934), The sequence of headinjury, the psychogenic factor. American Journal of Psychiatry 91, p. 189-201.
Weighill, V.E., D. Buglass (1989), An updated review of compensation neurosis. Pain Management 2, p. 100-105.

© 2009-2020 Uitgeverij Boom Amsterdam
ISSN 1382-516x
De artikelen uit de (online)tijdschriften van Uitgeverij Boom zijn auteursrechtelijk beschermd. U kunt er natuurlijk uit citeren (voorzien van een bronvermelding) maar voor reproductie in welke vorm dan ook moet toestemming aan de uitgever worden gevraagd:
Behoudens de in of krachtens de Auteurswet van 1912 gestelde uitzonderingen mag niets uit deze uitgave worden verveelvoudigd, opgeslagen in een geautomatiseerd gegevensbestand, of openbaar gemaakt, in enige vorm of op enige wijze, hetzij elektronisch, mechanisch door fotokopieën, opnamen of enig andere manier, zonder voorafgaande schriftelijke toestemming van de uitgever. Voor zover het maken van kopieën uit deze uitgave is toegestaan op grond van artikelen 16h t/m 16m Auteurswet 1912 jo. Besluit van 27 november 2002, Stb 575, dient men de daarvoor wettelijk verschuldigde vergoeding te voldoen aan de Stichting Reprorecht te Hoofddorp (postbus 3060, 2130 KB, www.reprorecht.nl) of contact op te nemen met de uitgever voor het treffen van een rechtstreekse regeling in de zin van art. 16l, vijfde lid, Auteurswet 1912. Voor het overnemen van gedeelte(n) uit deze uitgave in bloemlezingen, readers en andere compilatiewerken (artikel 16, Auteurswet 1912) kan men zich wenden tot de Stichting PRO (Stichting Publicatie- en Reproductierechten, postbus 3060, 2130 KB Hoofddorp, www.cedar.nl/pro).

No part of this book may be reproduced in any way whatsoever without the written permission of the publisher.
Jaargang 26, nr. 3, september 2020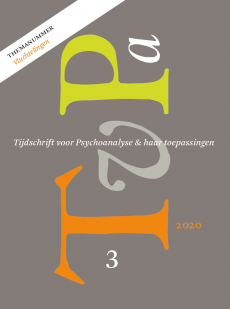 Nieuwsbrief Boom Psychologie
Meld u nu aan en ontvang maandelijks de Boom Psychologie nieuwsbrief met aantrekkelijke aanbiedingen en de nieuwe uitgaven.
Aanmelden
Boeken