Inhoud
De stompe tanden van de kinderen: betekenissen van het nationaal-socialisme bij kleinkinderen van meelopers en daders
2 april 2015
Summary
What subjective significance does National Socialism have for grandchildren of Nazi bystanders and victimizers? This article attempts to answer the question from a psychoanalytic point of view. Using Klein's theories on split aggression, the author depicts intergenerational transfer and its consequences for grandchildren of bystanders and victimizers who were interviewed using a qualitative research design. The hermeneutic interpretations focused on the latent content and gave subjective significance to the following topics: uncertain borders between fantasy and reality; an image of the grandparents oscillating between idealization and repulsion; identity and ideas of the hereditary; parents and grandparents forbidding the grandchildren to talk and inquire about their experiences under National Socialism.
Lees het volledige artikel als PDF
Literatuur
Bergmann, M.S., en M.E. Jucovy (red.) (1990), Generations of the Holocaust. Columbia University Press Morningside Edition, New York/Oxford.
Bruggeman, J. (1994), The significance of absent objects in the analysis of transgenerational conflicts. Zeitschrift für psychoanalytische Theorie und Praxis 9, p. 293-300.
Brugger, S. (1997), 'Der Kinder stumpfe Zähne...' Bedeutung des Nationalsozialismus bei Enkeln von Tätern und Mitläufern. Texte aus dem Colloquium Psychoanalyse, 1997, p. 116-129.
Grubrich-Simitis, I. (1984), Vom Konkretismus zur Metaphorik. Psyche 38, p. 1-28.
Haase, N. (1994), Torgau im zweiten Weltkrieg – ein neuralgischer Punkt deutscher Geschichte. Institut für Lehrerfort- und -weiterbildung, Berlin.
Juelich, D. (1994), Erlebtes und ererbtes Trauma – von den psychischen Beschädigungen bei den Urhebern der Schoah. In: H. Schreier en M. Heyl (red.), Die Gegenwart der Schoah. Krämer, Hamburg.
Klein, M. (1962a), Bemerkungen über einige schizoide Mechanismen. In: M. Klein, Das Seelenleben des Kleinkindes. Klett, Stuttgart.
Klein, M. (1962b), Die Psychoanalyse des Kindes. Internationaler Psychoanalytischer Verlag, Wenen.
Löchel, E. (1995), Technik zwischen Text und Szene. Psychodynamik und Geschlechterdifferenz in der Beziehung zum Computer. Habilitationsschrift Bremen. Versehenen als: E. Löchel, (1997) Inszenierungen einer Technik. Psychodynamik und Geschlechterdifferenz in der Beziehung zum Computer. Campus, Frankfurt.
Lorenzer, A. (1986), Tiefenhermeneutische Kulturanalyse. In: A. Lorenzer (red.), Kultur-Analysen. Fischer, Frankfurt am Main.
Mann, T. (1939), Bruder Hider. Das Neue Tagebuch, 25. März 1939 7, deel 13, p. 306-309. Later verschenen in: T. Mann (1986), An die gesittete Welt. Politische Schriften. Fischer, Frankfurt am Main.
Rosenthal, G. (1995), Familienbiographien: Nationalsozialismus und Antisemitismus im intergenerationellen Dialog. In: I. Attia (red.), Multikulturelle Gesellschaft – monokulturelle Psychologie. Dgvt-Verlag, Tübingen.
De Rijck, A. (1997), Onbekende spelers op het toneel. In: G. Cluckers en J. Cambien. (red.), Het externe en het interne gezin. Garant, Leuven/Apeldoorn, p. 53-81.
Schilling, V. (z.j.), Blut und Erbe – Über die Eigenschaften des Blutes, seine Aufgaben im menschlichen Körper und über seine Rolle als Vererbungsträger mit Einschluß der erblichen Krankheiten. Meier, Hamburg.
Witzel, A. (1985), Das problemzentrierte Interview. In: G. Jüttemann, (red.), Forschung in der Psychologie. Beltz, Weinheim.

© 2009-2021 Uitgeverij Boom Amsterdam
ISSN 1382-516x
De artikelen uit de (online)tijdschriften van Uitgeverij Boom zijn auteursrechtelijk beschermd. U kunt er natuurlijk uit citeren (voorzien van een bronvermelding) maar voor reproductie in welke vorm dan ook moet toestemming aan de uitgever worden gevraagd:
Behoudens de in of krachtens de Auteurswet van 1912 gestelde uitzonderingen mag niets uit deze uitgave worden verveelvoudigd, opgeslagen in een geautomatiseerd gegevensbestand, of openbaar gemaakt, in enige vorm of op enige wijze, hetzij elektronisch, mechanisch door fotokopieën, opnamen of enig andere manier, zonder voorafgaande schriftelijke toestemming van de uitgever. Voor zover het maken van kopieën uit deze uitgave is toegestaan op grond van artikelen 16h t/m 16m Auteurswet 1912 jo. Besluit van 27 november 2002, Stb 575, dient men de daarvoor wettelijk verschuldigde vergoeding te voldoen aan de Stichting Reprorecht te Hoofddorp (postbus 3060, 2130 KB, www.reprorecht.nl) of contact op te nemen met de uitgever voor het treffen van een rechtstreekse regeling in de zin van art. 16l, vijfde lid, Auteurswet 1912. Voor het overnemen van gedeelte(n) uit deze uitgave in bloemlezingen, readers en andere compilatiewerken (artikel 16, Auteurswet 1912) kan men zich wenden tot de Stichting PRO (Stichting Publicatie- en Reproductierechten, postbus 3060, 2130 KB Hoofddorp, www.cedar.nl/pro).

No part of this book may be reproduced in any way whatsoever without the written permission of the publisher.
Jaargang 26, nr. 4, december 2020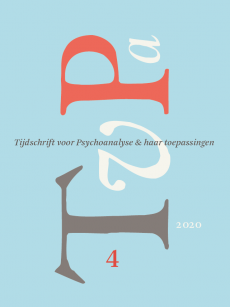 Nieuwsbrief Boom Psychologie
Meld u nu aan en ontvang maandelijks de Boom Psychologie nieuwsbrief met aantrekkelijke aanbiedingen en de nieuwe uitgaven.
Aanmelden
Boeken