Inhoud
Gefixeerde pathologische rouw
2 april 2015
Summary
This article illustrates by means of a case study how the clinical picture of established pathological mourning may underly an obsessive-compulsive personality disorder and a false self functioning. The theories of Freud, Klein and Volkan on pathological mourning are reviewed. In the course of the discussion some reflections on shifts in the countertransference, the unlocking of frozen objects and the role of introjection in an Oedipal struggle are presented.
Lees het volledige artikel als PDF
Literatuur
Abraham, K. (1924). Selected Papers on Psychoanalysis, p. 418-501. Londen: Maresfïeld Library-
Allouch, J. (1997). Erotique du deuil au temps de la mort sèche. Parijs: E.P.E.L.
Bowlby, J. (1963). Pathological mourning and childhood mourning. Journal of the American Psychoanalytical Association, 11, 500-541.
Deutsch, H. (1937). Absence of grief. The Psychoanalytic Quarterly, 6, 12-22.
Frankiel, R.V. (1994). Essential Papers on Object Loss. New York: New York University Press.
Freud, S. (1917). Rouw en Melancholie. Sigmund Freud Nederlandse Editie: Psychoanalytische Theorie 1, p. 65-91. Amsterdam: Boom.
Freud, S. (1927). Fetisjisme. Sigmund Freud Nederlandse Editie: Psychoanalytische Theorie 3, p. 233-245. Amsterdam: Boom.
Hagman, R. (1996). The role of the other in mourning. The Psychoanalytic Quarterly, 65, 327-352.
Khan, M. Masud (1962). Dream psychology and the evolution of the psychoanalytic situation. The International Journal of Psycho-Analysis, 43, 21-31.
Klein, M. (1940). Mourning and its relation to manic-depressive states. The International Journal of Psycho-Analysis, 21, 125-153.
Lampl-De Groot, J. (1983). On the process of mourning. The Psychoanalytic Study of the Child, 38, 9-13.
Loewald, H. (1962). Internalisation, separation, mourning and the superego. The Psychoanalytic Quarterly, 31, 483-504.
Pollock, G.H. (1961). Mourning and adaptation. The International Journal of Psycho-Analysis, 42, 341-361.
Quinodoz, J.M. (2002). Dreams That Turn Over a Page. Hove: Brunner-Routledge.
Racker, H. (1968). Transference and Counter-Transference. Londen: Maresfield Library.
Segal, H. (1953). A necrophilic phantasy. The International Journal of Psycho-Analysis, 34, 98-101.
Segal, H. (1957). Notes on symbol formation. The International Journal of Psycho-Analysis, 38, 391-397.
Segal, H. (1986). Manic reparation. In H. Segal, The work of Hanna Segal, p. 147-158. Londen: Free Association Books.
Steiner, J. (1990). Pathological organisations as obstacles to mourning: the theory of unbearable guilt. The International Journal of Psycho-Analysis, 71, 87-94.
Tyson, R. (1983). Some narcissistic consequences of object loss: a developmental view. The Psychoanalytic Quarterly, 52, 205-224.
Volkan, V.D. & Josephtal, D. (1980). The treatment of established pathological mourners. In T.B. Karasu en L. Bellak, Specialized Treatment in Individual Psychotherapy. New York: Brunner/Mazel.
Volkan, V.D. (1985). Depressive States and their Treatment. Northvale: Jason Aronson.
Winnicott, D.W. (1965). The Maturational Processes and the Facilitating Environment: Studies in the Theory of Emotional Development. Londen: Hogarth Press.
Winnicott, D.W. (1971). The use of an object and relating through identifications. In D.W. Winnicott, Playing and Reality, p. 96-94. New York: Routledge.

© 2009-2020 Uitgeverij Boom Amsterdam
ISSN 1382-516x
De artikelen uit de (online)tijdschriften van Uitgeverij Boom zijn auteursrechtelijk beschermd. U kunt er natuurlijk uit citeren (voorzien van een bronvermelding) maar voor reproductie in welke vorm dan ook moet toestemming aan de uitgever worden gevraagd:
Behoudens de in of krachtens de Auteurswet van 1912 gestelde uitzonderingen mag niets uit deze uitgave worden verveelvoudigd, opgeslagen in een geautomatiseerd gegevensbestand, of openbaar gemaakt, in enige vorm of op enige wijze, hetzij elektronisch, mechanisch door fotokopieën, opnamen of enig andere manier, zonder voorafgaande schriftelijke toestemming van de uitgever. Voor zover het maken van kopieën uit deze uitgave is toegestaan op grond van artikelen 16h t/m 16m Auteurswet 1912 jo. Besluit van 27 november 2002, Stb 575, dient men de daarvoor wettelijk verschuldigde vergoeding te voldoen aan de Stichting Reprorecht te Hoofddorp (postbus 3060, 2130 KB, www.reprorecht.nl) of contact op te nemen met de uitgever voor het treffen van een rechtstreekse regeling in de zin van art. 16l, vijfde lid, Auteurswet 1912. Voor het overnemen van gedeelte(n) uit deze uitgave in bloemlezingen, readers en andere compilatiewerken (artikel 16, Auteurswet 1912) kan men zich wenden tot de Stichting PRO (Stichting Publicatie- en Reproductierechten, postbus 3060, 2130 KB Hoofddorp, www.cedar.nl/pro).

No part of this book may be reproduced in any way whatsoever without the written permission of the publisher.
Jaargang 26, nr. 2, juni 2020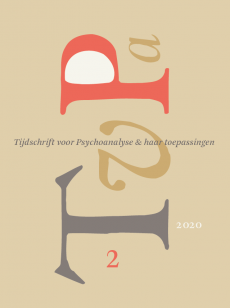 Nieuwsbrief Boom Psychologie
Meld u nu aan en ontvang maandelijks de Boom Psychologie nieuwsbrief met aantrekkelijke aanbiedingen en de nieuwe uitgaven.
Aanmelden
Boeken