Inhoud
Het Oedipuscomplex als rationele verklaring bij D.H. Lawrence
2 april 2015
Summary
D.H. Lawrence's autobiographical novel Sons and lovers gives a striking representation of the various elements of the Oedipus complex. By writing this novel Lawrence tried to elucidate the personal problems (a consuming mother fixation and repeatedly failing relationships with girls) he experienced at the time. His future wife Frieda initiated him in Freudian theory, within which he found the scheme to undertake in a conscious, rational way a comprehensive explanation of his difficulties. In his later metapsychological essays Lawrence denies the existence of infantile sexual drives, and he defines the Oedipus complex, reduced to the incest motive, as a logical deduction, a rational conclusion by the adult being faced with partner relationship problems related to a mother fixation. Thus Lawrence raised his procedure of representing the Oedipus complex as a rational interpretation of his problems to the status of a general definition of the incest motive.
Lees het volledige artikel als PDF
Literatuur
Aldington, R. (1950), Portrait of a Genius, But Heineman, London.
Berman, J. (1990), Narcissism and the Novel. University Press, New York.
Burrow, T. (1918), The Origin of the Incest-Awe. Psychoanalytic Review, 5, p. 243-254.
Duytschaever J. (1990), Een psychoanalytische benadering van verhalend proza: het motief van het kind. In: H. Hillenaar en W. Schönau (red.): Literatuur in Psychoanalytisch Perspectief. Rodopi, Amsterdam.
E.T. (Jessie Chambers) (1936), D.H. Lawrence: A Memoir. Knight, New York.
Freud, S. (1897), Extracts from the Fließ Papers. The Standard Edition of the Complete Psychological Works of Sigmund Freud. Vol. 1. Hogarth Press and The Institute of Psycho-Analysis, London.
Freud, S. (1911), The Interpretation of Dreams II. Standard Edition Vol. 5.
Freud, S. (1920), Beyond the Pleasure Principle. Standard Edition Vol. 18.
Freud, S. (1922), Some Neurotic Mechanisms in Jealousy, Paranoia and Homosexuality. Standard Edition Vol. 18.
Garnett, D. (1954), The Golden Echo. Harcourt, Brace and Cy, New York
Hinshelwood, R.D. (1995), Psychoanalysis in Britain: Points of Cultural Access, 1893-1918. International Journal of Psycho-Analysis, 76, p. 135-151.
Hoffman, F. J. (1957), Freudianism and the Literary Mind. 2nd edition, Louisiana State University Press, Baton Rouge.
Hough, G. (1956), The Dark Sun. A Study of D.H. Lawrence. Duckworth, London.
Jones, E. (1955), Sigmund Freud. Life and Work. Vol. II. Hogarth Press, London.
Kermode, F. (1973), Lawrence. Fontana/Collins, Bungay.
Kuttner, A. Booth (1916), 'Sons and Lovers': A Freudian Appreciation. Psychoanalytic Review, 3: p. 259-317.
Lawrence, Ada and Stuart Gelder (1931), Young Lorenzo. Orioli, Florence.
Lawrence, D. H. (1912), The Fight for Barbara. In: The Complete Plays of D.H. Lawrence. Heinemann, London (1965).
Lawrence, D.H. (1913), Sons and Lovers. Vertaling door J.F. Kliphuis: Zonen en Minnaars. Skarabee, Utrecht (1982).
Lawrence, D.H. (1920), Women in Love. Penguin, Harmondsworth (1986).
Lawrence, D.H. (1921), Psychoanalysis and the Unconscious; (1922), Fantasia of the Unconscious. Penguin Books, London (1971).
Lawrence, D.H., The Letters of D.H. Lawrence Vol. I (ed. J. Boulton). Cambridge University Press, Cambridge (1979).
Lawrence, D.H., The Letters of D.H. Lawrence Vol II (ed. G. Zybaruk and James J. Boulton), Cambridge University Press, Cambridge (1981).
Lawrence, Frieda (1934), Not I, But the Wind. The Viking Press, New York.
Leavis, F.R. (1955), D.H. Lawrence Novelist. Chatto and Windus, London.
Menninger, K. (1942), Love against Hate. Harcourt, Brace and Cy, New York.
Meyers, J. (1990), D.H. Lawrence. A Biography. Macmillan Papermac, London (1993).
Moore, H.T. (1974), The Priest of Love. A Life of D.H. Lawrence. Heinemann, London.
Moynahan J. (1963), Sons and Lovers: The Search for Form. In: J. Moynahan (red.), D.H. Lawrence. Sons and Lovers. The Viking Press, New York (1968).
Murry, J. Middleton (1931), Son of Woman. Jonathan Cape, London.
Nehls, E. (ed.) (1957-1959), D.H. Lawrence: A Composite Biography. 3 Vols. University of Wisconsin Press, Madison.
Panken, S. (1974-1975), Some Psychodynamics in Sons and Lovers: A New Look at het Oedipal Theme. Psychoanalytic Review, 61, p. 571-589.
Salgãdo, G. (1982), A Preface to Lawrence. Longman, London.
Tedlock, E.W. Jr. (1963), D.H. Lawrence. Artist and Rebel. A Study of Lawrence's Fiction. The University of New Mexico Press, Albuquerque.
Weiss, D. A. (1962), Oedipus in Nottingham: D.H. Lawrence. University of Washington Press, Seattle.

© 2009-2020 Uitgeverij Boom Amsterdam
ISSN 1382-516x
De artikelen uit de (online)tijdschriften van Uitgeverij Boom zijn auteursrechtelijk beschermd. U kunt er natuurlijk uit citeren (voorzien van een bronvermelding) maar voor reproductie in welke vorm dan ook moet toestemming aan de uitgever worden gevraagd:
Behoudens de in of krachtens de Auteurswet van 1912 gestelde uitzonderingen mag niets uit deze uitgave worden verveelvoudigd, opgeslagen in een geautomatiseerd gegevensbestand, of openbaar gemaakt, in enige vorm of op enige wijze, hetzij elektronisch, mechanisch door fotokopieën, opnamen of enig andere manier, zonder voorafgaande schriftelijke toestemming van de uitgever. Voor zover het maken van kopieën uit deze uitgave is toegestaan op grond van artikelen 16h t/m 16m Auteurswet 1912 jo. Besluit van 27 november 2002, Stb 575, dient men de daarvoor wettelijk verschuldigde vergoeding te voldoen aan de Stichting Reprorecht te Hoofddorp (postbus 3060, 2130 KB, www.reprorecht.nl) of contact op te nemen met de uitgever voor het treffen van een rechtstreekse regeling in de zin van art. 16l, vijfde lid, Auteurswet 1912. Voor het overnemen van gedeelte(n) uit deze uitgave in bloemlezingen, readers en andere compilatiewerken (artikel 16, Auteurswet 1912) kan men zich wenden tot de Stichting PRO (Stichting Publicatie- en Reproductierechten, postbus 3060, 2130 KB Hoofddorp, www.cedar.nl/pro).

No part of this book may be reproduced in any way whatsoever without the written permission of the publisher.
Jaargang 26, nr. 3, september 2020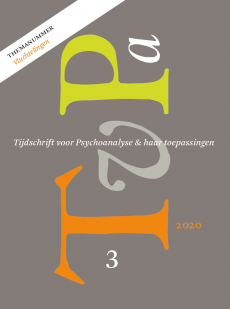 Nieuwsbrief Boom Psychologie
Meld u nu aan en ontvang maandelijks de Boom Psychologie nieuwsbrief met aantrekkelijke aanbiedingen en de nieuwe uitgaven.
Aanmelden
Boeken