Inhoud
Jouissance a cinque voci
2 april 2015
Summary
Jouissance a cinque voci
This article seeks to explain a difficult but intriguing Lacanian concept: jouissance. It is shown with reference to the music of Carlo Gesualdo that experiences of astonishment are a sign of the approach to 'the Thing'. 'The Thing' is the lost object which must be continually refound. The lost object is also the cause of desire. When the subject transgresses the pleasure principle and attains 'the Thing', this is experienced as jouissance, a painful pleasure. The music of Gesualdo, with its characteristic dissonances, has reminiscences of jouissance. In this constellation the protection of the subject by language is absent.
Key words:
desire, Gesualdo, jouissance, Lacan, music, 'the Thing'
Lees het volledige artikel als PDF
Literatuur
Augustinus, A. (1940). Belijdenissen (Confessiones). Vertaling A. Sizoo. Delft: Meinema.
Brancati, R. (1997). Bios Athanatos, Carlo Gesualdo pricipe di Venosa 1566-1613. Milaan: 21° Secolo.
Consiglio, A. (1967). Gesualdo ovvero assassinio a cinque voci. Storia tropica italiana del secolo XVI. Napels: Berisio.
Craft, R. (1972). Stravinsky: The chronicle of a friendship 1948-1971. Londen: Victor Gollancz.
Derrida, J. (1967). De stem en het fenomeen. Baarn: 1989.
France, A. (1895). Histoire de Dona Maria d'Avalos et de Don Fabricio, Duc d'Andria. In A. France Le puits de Saint Claire (p. 235-249). Parijs: Calmann-Lévy, 1925.
Gray, C. & Heseltine, Ph. (1926). Carlo Gesualdo, Prince of Venosa, musician and murderer. Londen/New York: J. Curwen & Sons Ltd, 1971.
Hoofdakker, R. van den, (1972). Wie wat vindt heeft slecht gezocht. Amsterdam: Van Oorschot.
Komrij, G. (2001). Interview in Trouw, 24 november 2001, p. 21.
Lacan, J. (1966). Écrits. Parijs: Seuil.
Lacan, J. (1975). Le séminaire de 1972-1973, livreXX. Encore. Parijs: Seuil.
Lévi Strauss, Cl. (1971). L'homme nu. Parijs: Plon.
Meister, H. (1973). Untersuchungen zum Verhältnis von Text und Vertonung in den Madrigalen Carlo Gesualdos. Regensburg: Gustav Bosse.
Misuraca, P. (2000). Carlo Gesualdo, Principe di Venosa. Palermo: L'Epos.
Newcomb, A. (1968). Carlo Gesualdo and a musical correspondence of 1594. Musical Quarterly, LIV (4), 409-436.
Piccardi, C. (1974). Carlo Gesualdo: l'aristocrazia come alezione. Revista italiana di musicologia, IX, 90-93.
Poizat, M., (1991). La voix du diable. La jouissance lyrique sacrée. Parijs: Métaillié.
Porge, E. (2000). Jacques Lacan, un psychanalyste. Parcours d'un enseignement. Toulouse: Erès.
Sartori, Cl. (1973). Madrigali del Passerini e ricercari di De Macque e Gesualdo. Quadrivium, XIV, 181.
Schönberg, A. (1932). Mozes und Aaron (onvoltooide opera).
Vaccaro, A. (1982). Carlo Gesualdo, Principe di Venosa. L'uomo e i tempi. Venosa: Editione Osanna, 1998.
Watkins, G.E. (1991). Gesualdo: the man and his music. Oxford: Clarendon Press.

© 2009-2021 Uitgeverij Boom Amsterdam
ISSN 1382-516x
De artikelen uit de (online)tijdschriften van Uitgeverij Boom zijn auteursrechtelijk beschermd. U kunt er natuurlijk uit citeren (voorzien van een bronvermelding) maar voor reproductie in welke vorm dan ook moet toestemming aan de uitgever worden gevraagd:
Behoudens de in of krachtens de Auteurswet van 1912 gestelde uitzonderingen mag niets uit deze uitgave worden verveelvoudigd, opgeslagen in een geautomatiseerd gegevensbestand, of openbaar gemaakt, in enige vorm of op enige wijze, hetzij elektronisch, mechanisch door fotokopieën, opnamen of enig andere manier, zonder voorafgaande schriftelijke toestemming van de uitgever. Voor zover het maken van kopieën uit deze uitgave is toegestaan op grond van artikelen 16h t/m 16m Auteurswet 1912 jo. Besluit van 27 november 2002, Stb 575, dient men de daarvoor wettelijk verschuldigde vergoeding te voldoen aan de Stichting Reprorecht te Hoofddorp (postbus 3060, 2130 KB, www.reprorecht.nl) of contact op te nemen met de uitgever voor het treffen van een rechtstreekse regeling in de zin van art. 16l, vijfde lid, Auteurswet 1912. Voor het overnemen van gedeelte(n) uit deze uitgave in bloemlezingen, readers en andere compilatiewerken (artikel 16, Auteurswet 1912) kan men zich wenden tot de Stichting PRO (Stichting Publicatie- en Reproductierechten, postbus 3060, 2130 KB Hoofddorp, www.cedar.nl/pro).

No part of this book may be reproduced in any way whatsoever without the written permission of the publisher.
Jaargang 27, nr. 2, juni 2021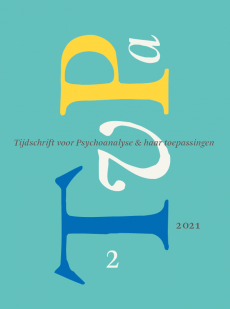 Nieuwsbrief Boom Psychologie
Meld u nu aan en ontvang maandelijks de Boom Psychologie nieuwsbrief met aantrekkelijke aanbiedingen en de nieuwe uitgaven.
Aanmelden
Boeken